Uncovering the Benefits of Seamless.ai for Small-to-Midsized Business Owners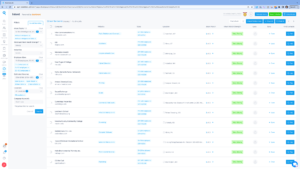 This blog post is the third in a 5-part Newlogiq series that will discuss artificial intelligence applications that actually deliver value for small-to-mid-sized business owners. In today's business world, finding the leads and prospects is half the battle to success. But, getting accurate information about those leads and prospects is the other half of the equation that is just as important. And that's why Seamless.ai is vital to any small or medium-sized business looking to grow its customer base. Deemed as the leading platform for accurate lead generation and prospecting, Seamless.ai allows businesses to make the most out of their sales efforts.
With a plethora of valuable features that includes sentiment analysis, and other such benefits, it is no surprise that businesses are flocking to use Seamless.ai to ramp up their growth. In this blog post, we will uncover the benefits of Seamless.ai that are geared specifically towards small-to-mid-sized businesses.
Accurate Data
Seamless.ai provides up-to-date contact information that is sourced from authentic sources, such as LinkedIn and other authoritative sites. It filters all prospects by industry, position, location, and other parameters to find those qualified leads that are most likely to convert to customers. The data provided by Seamless.ai is guaranteed to be accurate and up-to-date, which saves businesses time and money by eliminating the need to spend hours researching prospects. As an avid user of the tool, we can vouch for the accuracy of the data received from Seamless.ai.
Sentiment Analysis
Lead generation is not only about finding the contact information of your desired audience. It goes beyond that and gives insight into how people perceive and engage with these leads. Thankfully, Seamless.ai provides sentiment analysis to help small-to-mid-sized business owners and leaders know exactly what their prospects feel about their product or service. The tool uses natural language processing to determine if a particular message or sentiment is positive, negative, or neutral. As a result, businesses can craft a messaging strategy that appeals to the sentiment of their target audience.
Integration with CRMs/Marketing Platforms
Seamless.ai has integrations with numerous CRMs and marketing platforms, including Hubspot, Salesforce, and Marketo, among many others. This makes it possible to import, export, and sync contact information for more efficient and seamless marketing campaigns. Seamless.ai can ensure that you have the right contact data available at all times, helping streamline communication and increasing sales and revenue.
Customized Search filters
Seamless.ai provides businesses with the ability to filter their search in-depth to find the most qualified leads fitting their ideal customer profile. This gives businesses the ability to create a tailor-made search by using filters, such as size of business, industry, geolocation, and even income level. By doing this, businesses can ensure they're targeting the right people and not wasting their time on fruitless prospects.
Smooth User Interface
Seamless.ai is built with a user-friendly interface that helps small-to-mid-sized business owners and executives to navigate its different features easily. Its mobile applications are intuitive, with exceptional usability, which helps you access the features you need – from generating leads, to conducting research and sentiment analysis, all from one place.
Conclusion:
Using Seamless.ai to generate leads and gain accurate insights into prospects based upon there online behaviors is the future of sales and marketing for small-to-mid-sized businesses. With accurate data, sentiment analysis, integrations with other marketing software, customized search filters, and a smooth user interface, Seamless.ai is the ultimate tool to take your business's sales to the next level.
Seamless.ai ensures that business owners save time and money by providing accurate data that assists with crafting relevant messaging, and custom filters to fast-track the process. With the help of Seamless.ai, you will spend way less time tracking down prospects and much more time landing and converting customers. Investing in Seamless.ai is a smart decision for businesses looking to grow, expand, and thrive. To obtain a FREE trial of Seamless.ai, please click here. To learn more about how Newlogiq can help you take advantage of the power of Seamless.AI, please click here.